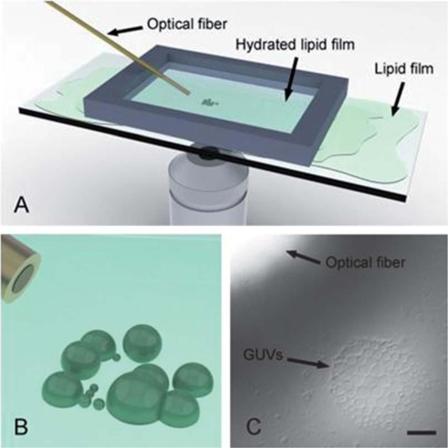 Reference
: Soft Matter
,
2012,
8
, 10823-10826.
Title
: Formation of giant unilamellar vesicles from spin-coated lipid films by localized IR heating
Authors
: Celine Billerit, Gavin D. M. Jeffries, Owe Orwar and Aldo Jesorka
Review by
: YanJun Liu
In this article, the authors report a novel method for the generation of GUVs (generate unilamellar vesicles) from spin-coated lipid films by means of localized heating. This technique enables GUV formation from both charged and neutral lipid species, as well as from a complex lipid mixture, in various ionic strength conditions. Moreover, encapsulation was possible during and after GUV formation.
Interestingly, the method is very easy and they can produce vesicles from charged or uncharged lipids under different ionic conditions. (A) GUVs from PE. (B) GUVs from DMPC. (C) GUVs from DOPS. (D) GUVs from SPE.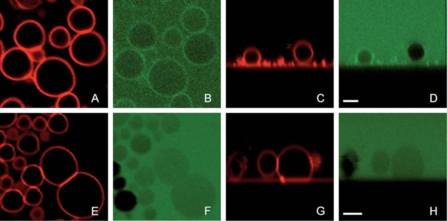 What's more, they demonstrated the feasibility of encapsulating bioactive molecules inside vesicles. The figures show that confocal laser scanning micrographs of forming/formed vesicles from 99% SPE and 1% Texas Red DHPE, during encapsulation of FITC–dextran. (A–D) Display encapsulation variations 'during' the formation procedure. (E–H) Display encapsulation variations in 'formed' vesicles. (A, C, E and G) Show the membrane dye Texas Red DHPE whereas (B, D, F and H) show the encapsulated FITC–dextran.