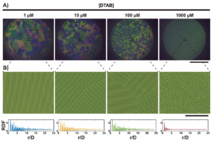 Abstract:
The
"
fl
ipping method
"
is a new straightforward way to both adsorb and organize microparticles at a liquid
interface, with ultralow amounts of a surfactant and no other external forces than gravity. Here we
demonstrate that it allows the adsorption of a variety of inorganic nanoparticles at an air/water interface,
in an organized way, which is directly controlled by the surfactant concentration, ranging from amor-
phous to highly crystalline two-dimensional assemblies. With micromolar amounts of a conventional cat-
ionic surfactant (dodecyltrimethylammonium bromide, DTAB), nanoparticles of di
ff
erent compositions
(silica, silver, and gold), sizes (down to 100 nm) and shapes (spheres and cubes) adsorb from the bulk and
directly organize at the air/water interface, resulting in marked optical properties such as re
fl
ectivity or
intense structural coloration.
Reference:
From-bulk crystallization of inorganic nanoparticles at the air/water interface: tunable organization and intense structural colors
J. Vialetto, S. Rudiuk, M. Morel, D. Baigl*
Nanoscale 2020
, 12, 6279-6284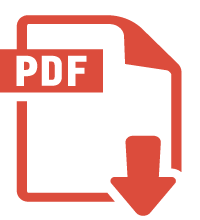 -doi :
10.1039/C9NR10965J